Introduction
It is unusual for Intel or AMD to launch a high-performance motherboard chipset without releasing new processors at exactly the same time, thus ensuring the combination makes the most out of each other.
There's no secret that 11th Gen Core desktop processors, codenamed Rocket Lake-S, are coming soon, most likely in mid-March, but their natural motherboard counterpart, Z590, is already out in the wild.
10th and 11th Gen chips share the same LGA1200 socket, meaning that many, if not all, Z490 boards support the upcoming chips, and firms such as Gigabyte have already come out with declarations of Z490 compatibility for Rocket Lake-S' PCIe 4.0 capability.
Intel's thinking is that by having compatibility with Z490, there's a clear upgrade path for users who have already invested in premium 10th Gen hardware, while those building a ground-up rig will favour Z590 because, well, it is newer.
Gigabyte has understandably released a full roster of Z590 boards – 13 by our count. So what are the reasons for having so many when Z490 is, apparently, more than capable? The comparison sheet doesn't show a lot, but delving deeper, Z590 has native support for PCIe 4.0 x16 graphics and a CPU-attached PCIe 4.0 x4 M.2 slot for super-fast storage. Z490's can vary. Intel further improves USB support over Z490 by having up to three 20Gbps (USB 3.2 Gen 2×2) ports and a further four 10Gbps.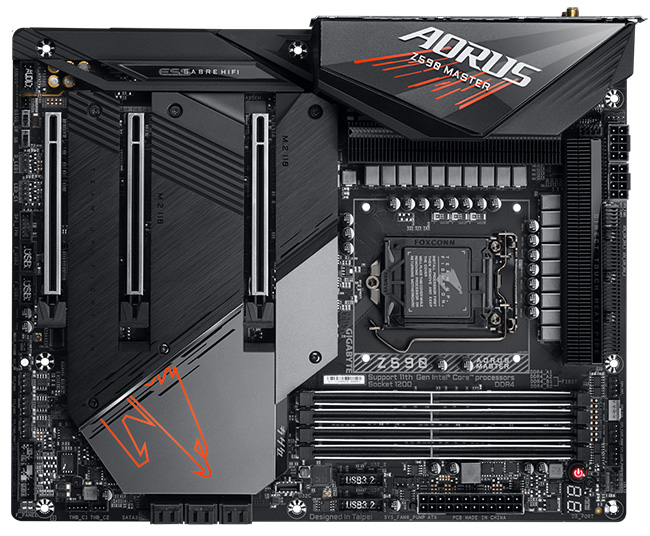 The Aorus Z590 Master sits nearer the top of the stack and is priced at £410. Though it looks very similar to the Z490 version now on sale for around £330, there are key differences to be aware of, and it's those we'll focus on. The primary M.2 slot, closest to the CPU, only works if you have an 11th Gen Core chip in the socket – and no-one does right now – so if using 10th Gen chips it is redundant and you are left with the two slots to the left, underneath the heatsinks. Z490 Master makes use of all three, albeit at PCI 3.0 x4 speeds.
Aorus uses the same Intersil ISL69269 PWM controller and ISL99390 90A power stages, but now increases the total count to 18 for the CPU rather than 14 on Z490 Master. These aren't true, distinct phases, however, as nine are twinned, but more is considered better, particularly for marketing. Another one goes to the GPU, and the total number is way overkill for practically all setups. We'd happily overclock a Core i9-10900K on the 12 phases available to, say, the £230 Z590 Vision G. Other improvements include a second USB 3.2 header, better voltage measuring points, and an extra two 4-pin fan headers.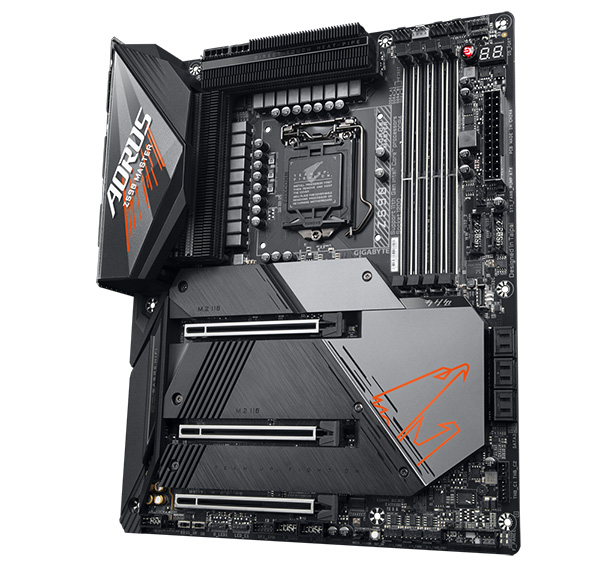 The power button may be hard to access if you have a top- mounted radiator. The reset is on the other side of the board, strangely, and we'd prefer to see them grouped together. RGB is present in the orange-coloured zones by the Aorus name on the integrated I/O shroud and the logo present above the chipset. It's tastefully done, too.
Note that getting this sleek-looking aesthetic means Aorus does away with x1 PCIe altogether. No bad thing in our book as we've yet to feel the need to use one of those slots.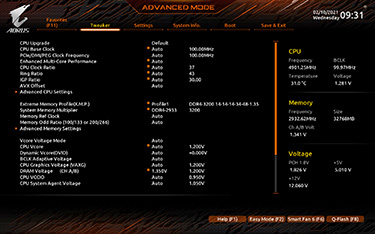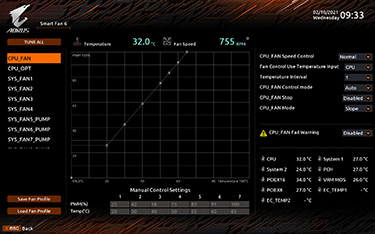 Aorus uses a 1,920×1,200-resolution BIOS that's generally good. The simple layout means that for most, very few changes need to be made. We simply ran the memory at XMP settings, reduced the speed to 2,933MHz to match the official CPU specifications, and then set everything to Auto. If matters do go awry, the board has a second BIOS accessed by a switch on the bottom of the PCB.

Changing it up on the rear I/O for the better, Z490 Master's HDMI gives way for Z590's DisplayPort. That Type-C port is of the full-fat 20Gbps variety, while USB 2.0 is kicked to the curb and replaced by four USB 3.2 (5Gbps) in blue. The remaining five red-coloured USB operate at 10Gbps.
We also like that Aorus has upgraded Ethernet from 2.5G to 10G from Aquantia. Not obvious and part of the chipset update, the WiFi also sees an upgrade, from AX201 to WiFi 6E AX210, which adds support for the 6GHz spectrum, but you'll need a compatible router to make the most out of it.
In summary, Aorus makes mostly sensible choices in the upgrades department. We appreciate the boost in USB and Ethernet connectivity, don't see the immediate benefit of more power stages, but are a tad miffed the primary M.2 slot doesn't function at all with a 10th Gen CPU.
Test Methodology
Comparison Configurations
Model
Z590 Aorus Master
Asus ROG Maximus XII Hero WiFi
Asus ROG Crosshair VIII Hero WiFi
Firmware Version
F4a
2004
3202
Price
£410
£370
£400
Chipset
Intel Z590
Intel Z490
AMD X570
CPU
Intel Core i9-10900K
AMD Ryzen 9 5950X
CPU Cores / Threads
10 / 20
16 / 32
CPU Base Clock / Turbo
3.7GHz / 5.3GHz
3.4GHz / 4.9GHz
CPU TDP
125W
105W
Memory
G.Skill Trident Z DDR4-3200
Corsair Vengeance LPX DDR4-4800 (OC)
Memory Speed
DDR4-2933
DDR4-3200
Memory Timings
14-14-14-34 (XMP)
Graphics
Nvidia GeForce RTX 3080 FE (461.09)
Primary Storage Device
Corsair MP600 1TB PCIe 4.0
USB Device
SanDisk Extreme Pro Portable V2
CPU cooling
Noctua NH-D15S single fan
Power Supply
be quiet! Dark Power Pro 10 (1,000W)
Operating System
Windows 10 20H2 (64-bit)
Benchmark Suite
CPU Benchmarks
HEXUS PiFast
Our number-crunching benchmark stresses a single core by calculating Pi to 10m places
Cinebench Release 23
Using Cinebench's multi-CPU render, this cross-platform benchmark stresses all cores
Blender 2.90
Running the Classroom benchmark
Storage Benchmarks
CrystalDiskMark
Free-to-use benchmark testing sequential storage performance
Memory Benchmarks
AIDA64
Benchmark that accurately depicts memory bandwidth and latency
System Benchmarks
3DMark Time Spy
DX12 graphics benchmark run using the Time Spy test
PCMark 10
System test using the standard preset
Civilization VI: Gathering Storm
AI benchmark run at FHD to determine CPU involvement
Gaming Benchmarks
Civilization VI: Gathering Storm
1,920×1,080 Ultra settings
Final Fantasy Shadowbringers
1,920×1,080 maximum settings
F1 2020
1,920×1,080 ultra-high settings
Miscellaneous Benchmarks
Power Consumption
To emulate real-world usage scenarios, we record system-wide mains power draw when idle, when rendering via Blender and while playing F1 2020
Notes
Having recently refreshed the motherboard test suite, we had to retest a Z490 board to provide some comparison against the Z590 Aorus Master.
We expect to see little in the way of performance difference as we're testing with a Core i9-10900K on both. Providing some wider context is our premium AMD Ryzen 9 setup comprising the 5950X chip and X570 motherboard.
Benchmarks: CPU



You're not buying a Z590 board for pure performance reasons alone. The Aorus benchmarks a little faster than the Asus Z490, but AMD is in a different ballpark when multithreaded applications are called upon.
For the sake of completeness and context, the same Blender test takes just 43 seconds on the GeForce RTX 3080 GPU, so, for this benchmark at least, it doesn't matter which CPU you have if there's a high-performance GPU present.
Benchmarks: Memory



A hair faster than an identically configured Z490 board means our sample is working as expected.
Benchmarks: System



It's all very close in the system tests. We can't say one platform is much better than another.
Benchmarks: Storage



We're using the latest SanDisk Extreme Pro Portable V2 external drive to test USB performance, and it's why the Master blitzes the other two boards in this test; it's the only one with a 2×2 port.
Using a Core i9-10900K means no PCIe 4.0 speeds, so M.2 performance is clearly not as good as on the AMD X570 when using the same Corsair MP600 drive.
Benchmarks: Gaming



Gaming performance at FHD is about as good as it gets as we're pairing an RTX 3080 with two of the best gaming CPUs around.
Benchmarks: Power Consumption



The idle platform power draw is 10-15W higher than when we were benchmarking on an RTX 2080, strangely.
Wonder why the Master pulls 91W more than the AMD setup? It has to do with Aorus making sure the Core i9-10900K runs at 4.9GHz on all cores, which causes power to escalate rapidly, all the way up to 219W for the processor alone.
F1 2020 maxes out the power by using a number of CPU threads alongside the RTX 3080 going full gas. In this respect, the Intel and AMD platforms are pretty much the same.
Benchmarks: Temperature



We also look at various board temperatures when running the CPU/SSD flat out for 15 minutes, logging the last five. Aorus' cooling does a good job.
Benchmarks: Overclocking



This is where premium boards sometimes set themselves apart from budget offerings.
We're running marginally faster on the CPU when using 1.35V. All three platforms are able to run the Corsair DDR4-4800 at stock speeds… but no higher.
Conclusion
…the 18-phase CPU power supply is barely tickled at stock and unruffled when overclocking.
Aorus knows it has to release a number of Z590 boards because Intel retains commanding market share in the consumer desktop market. Focussing on the key changes over the Z490 Master, power delivery is beefed up further, there's improvements in connectivity and networking, mostly from the chipset, whilst the rest is kept similar – why change a formula that works?
Power consumption remains high as the Aorus BIOS pushes the Core i9-10900K all the way up to an all-core 4.9GHz by default. Even so, the 18-phase CPU power supply is barely tickled at stock and unruffled when overclocking.
It's a shame the topmost M.2 slot is rendered unusable with anything other than an 11th Gen CPU, leaving two, but there's little else to criticise for what is a good example of a premium Intel motherboard.
We shall really know the Z590 Aorus Master's worth once the Core i9-11900K is in the socket, but for now, it has enough over the previous model to be of genuine interest to the well-heeled enthusiast looking forward to a premium build in 2021.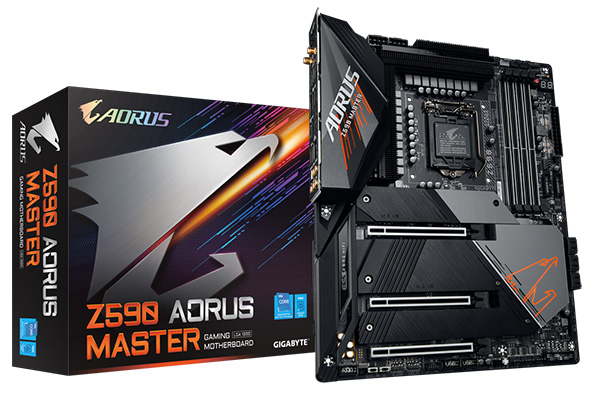 The Good
 
The Bad
Excellent power supply
10G Ethernet
Dual BIOS
USB 3.2 2×2
Good temps all round
 
Top M.2 inoperable with 10th Gen CPU
A touch expensive
credits: hexus.com
find origional post here