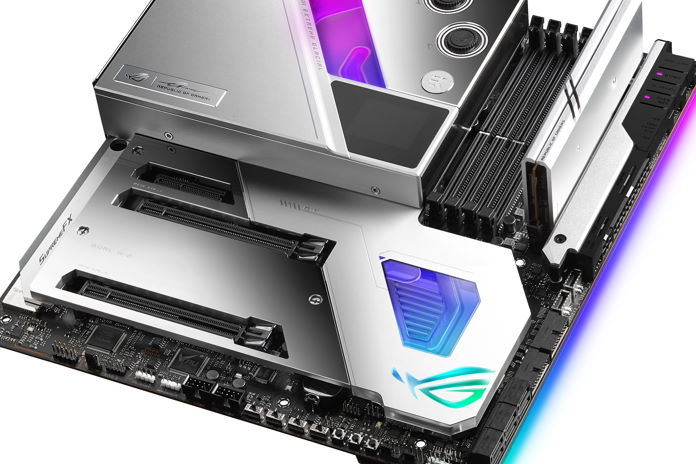 It's a rare thing when life lets you have it both ways, but that's exactly what you'll find from Intel's Z590 desktop platform, launching today at CES 2021. Z590 motherboards maintain support for the stratospheric clock speeds and impressive multithreaded performance of Intel's 10th Gen Core processors. At the same time, they're ready for lift-off with all of the next-gen features of the upcoming 11th Gen Core CPU family, code-named Rocket Lake. A full array of ASUS Z590 motherboards is on its way, and whether you choose from the top-shelf ROG Maximus XIII series, the sleek and speedy ROG Strix line, the rugged TUF Gaming family, or the purposeful Prime lineup, you can be sure of a smooth and reliable PC build. We'll have full details on all of those motherboards soon, but we want you to have a taste of what to expect today.
For the ASUS Z590 lineup, we're tapping into all of the platform features offered by 11th Gen Core CPUs to offer Intel PC DIY enthusiasts a thoroughly cutting-edge experience. When paired with those upcoming CPUs, ASUS Z590 motherboards will offer up to 16 lanes of PCI Express 4.0 connectivity direct from the processor, delivering up to 32GB/s of bandwidth for today's highest-performance discrete GPUs. The Z590 platform also taps four dedicated PCIe 4.0 lanes from the processor for maximum performance with the latest solid-state drives.
More power meets a big chill
Powerful processors need plenty of juice to realize their potential. For Z590, we're raising our power delivery game once more with redesigned multi-phase VRMs that range up to an massive 18+2 topology on the top-end ROG Maximus XIII Extreme. ROG Maximus XIII motherboards also employ highly capable and efficient integrated power stages across the lineup to support high sustained performance and the most demanding overclocking expeditions.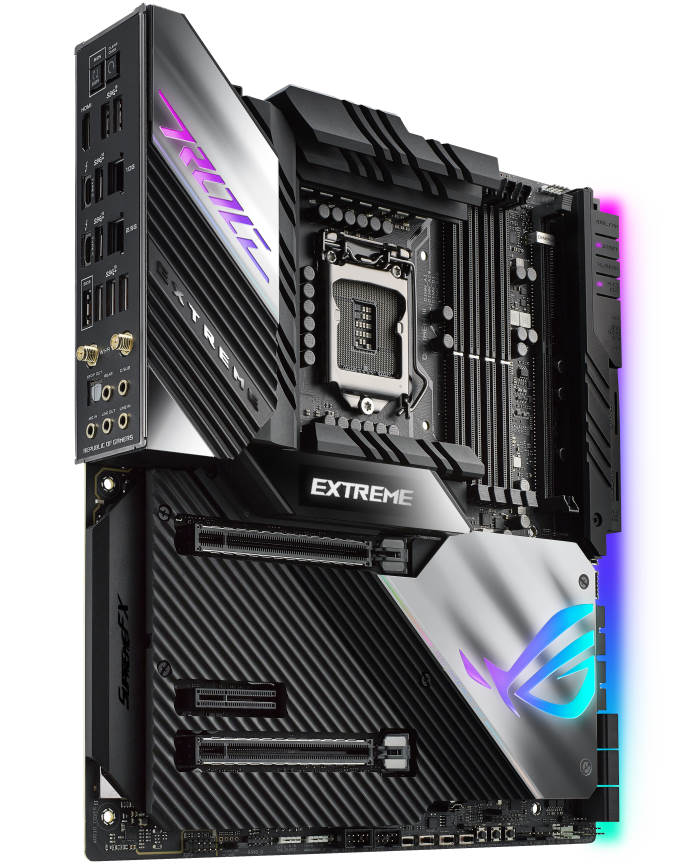 The ROG Maximus XIII Extreme
ROG Maximus XIII, ROG Strix, and TUF Gaming boards all use our VRM heatsink design to keep these many-phase VRMs cool. ROG Maximus XIII and ROG Strix boards employ individual high-surface-area heatsinks built atop wide heatpipes for highly effective thermal transfer from the circuitry beneath, while the TUF Gaming Z590-Plus WiFi uses large discrete heatsinks. On all of these enthusiast-friendly motherboards, our latest VRM cooling approach transforms the I/O shroud from a primarily cosmetic polymer element to a massive alloy shroud that's fully integrated with the rest of the motherboard cooling system for lower VRM temperatures than ever. Our Prime Z590 motherboards also stand ready for 11th Gen Core CPUs with expanded VRM heatsinks covering all of their power-delivery circuitry.
Of course, VRMs are only one component that can limit your PC's performance without proper cooling. We also beefed up heatsinks across the rest of the motherboard for this generation. ROG Z590 boards unlock the best performance from both PCIe 3.0 and next-generation PCIe 4.0 SSDs by sandwiching them between heatsinks on both sides. Heat from those SSDs has more routes for escape than on motherboards with a single heatsink on top of the drive.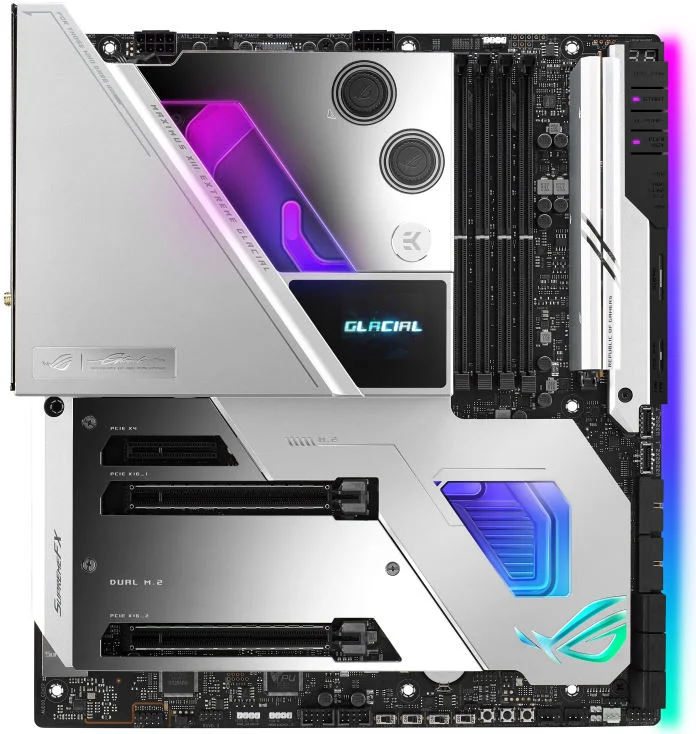 The ROG Maximus XIII Extreme Glacial
The ROG Maximus XIII Extreme Glacial ties all of these power and cooling improvements together in one of the most formidable motherboards we've ever built. Starting with the top-end Maximus XIII Extreme PCB as a foundation, the Extreme Glacial keeps every one of its onboard components frosty with a massive full-coverage water block developed in tandem with the experts at EK. Thanks to full liquid-cooled coverage of its VRM and the Z590 platform controller hub, alongside a massive M.2 heatsink system, the Maximus XIII Extreme Glacial is built to deliver the highest performance and the lowest temperatures in the most extreme gaming builds.
We're also extending our renowned cooling and RGB LED control capabilities from the Maximus XIII Extreme and Maximus XIII Extreme Glacial to let demanding builders realize their most complex cooling and lighting visions. Both of these motherboards will include the new ROG Fan Controller module. This hub fits into a 2.5" form factor for easy mounting in a system, and it includes six pairs of addressable RGB and four-pin fan headers that integrate with our Fan Xpert and Aura Sync tools for precise control. The ROG Fan Controller also includes two thermal sensor headers to expand the monitoring capabilities of both Maximus XIII Extreme motherboards.
Next-gen inside and out
Speed isn't optional in a next-generation system. On top of the PCIe 4.0 support offered by 11th Gen Intel Core CPUs, all of our ROG Maximus XIII Z590 motherboards offer up to two onboard Thunderbolt 4 USB Type-C ports. This standard offers up to 40Gbps of bandwidth over cables up to two meters in length, in addition to full support for the next-generation USB4 protocol. No matter what peripheral devices you connect to these ports, you'll enjoy consistently high performance.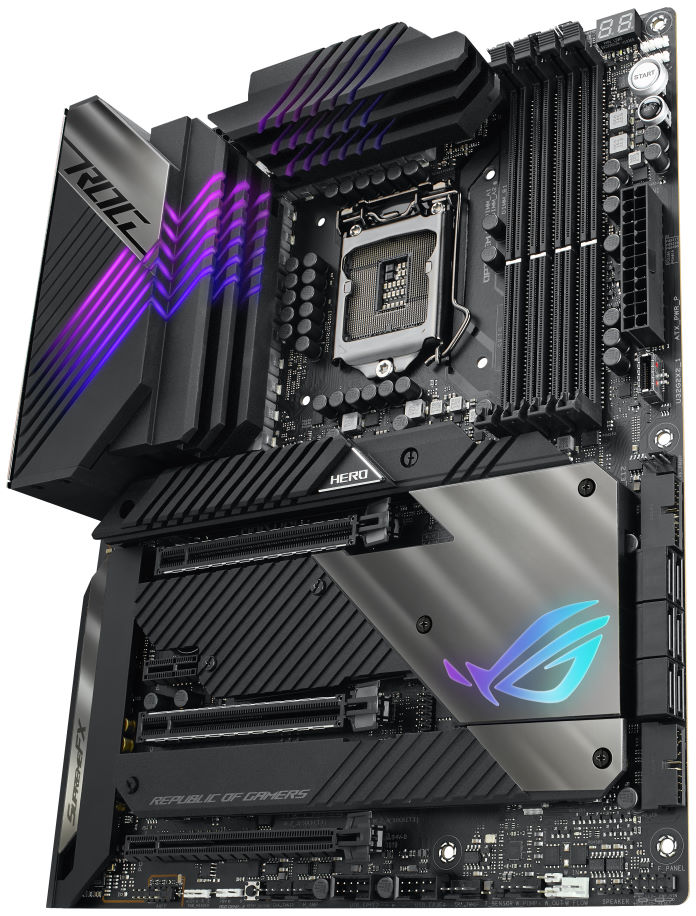 The ROG Maximus XIII Hero
A new generation of Wi-Fi is right around the corner, too. 6GHz spectrum, allocated for Wi-Fi by the United States Federal Communications Commission, opens up a vast new frontier of prime wireless networking airspace. Once Wi-Fi 6E devices are approved for operation by regulatory bodies, you'll want your next PC to be ready from day one. We've already blazed the trail to Wi-Fi 6E adoption with the ROG Rapture GT-AXE11000 tri-band router, and both ROG Maximus XIII and ROG Strix Z590 motherboards will be ready to take advantage of the GT-AXE11000 from the day they're cleared for takeoff in this new spectrum thanks to integrated Wi-Fi 6E-ready wireless NICs.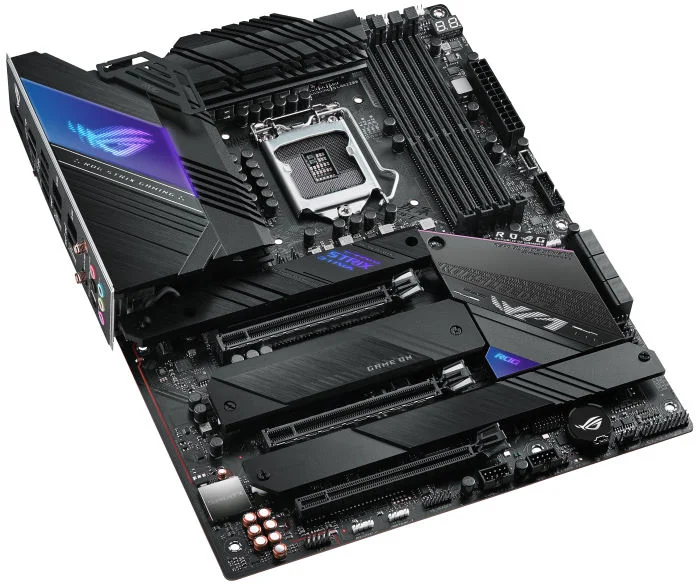 The ROG Strix Z590-E Gaming
Finally, ROG and ROG Strix Z590 motherboards also employ new Realtek ALC4000-series audio codecs to deliver the highest-quality sound for both music and games. Select models pair that next-generation audio codec with audiophile-grade ESS digital-to-analog converters for the purest sound through high-fidelity headphones. We pair those components with our SupremeFX suite of circuit design and software tools to ensure the most satisfying hi-fi gaming and listening experience around.
For the most exacting listeners, ROG Maximus XIII Extreme and Extreme Glacial boards will include the new ROG Clavis, an outboard USB Type-C DAC that employs four ESS converters dedicated to discrete ranges of the audio spectrum. By separating the digital signal associated with each of these spectral ranges, processing their signals on dedicated hardware, and combining them into one analog signal, the Clavis ensures the absolute highest signal-to-noise ratio and lowest distortion in the final analog output. All that happens in a package that's isolated from potential sources of electronic noise inside your PC's case.
Software smarts do all the hard work for you
Powerful hardware needs intelligent software to unleash its full potential, and we're constantly on the lookout for ways that we can improve or refine your experience with clever software tools. Our suite of exclusive AI-powered technologies returns on the Z590 platform to maximize your system's performance with minimal effort.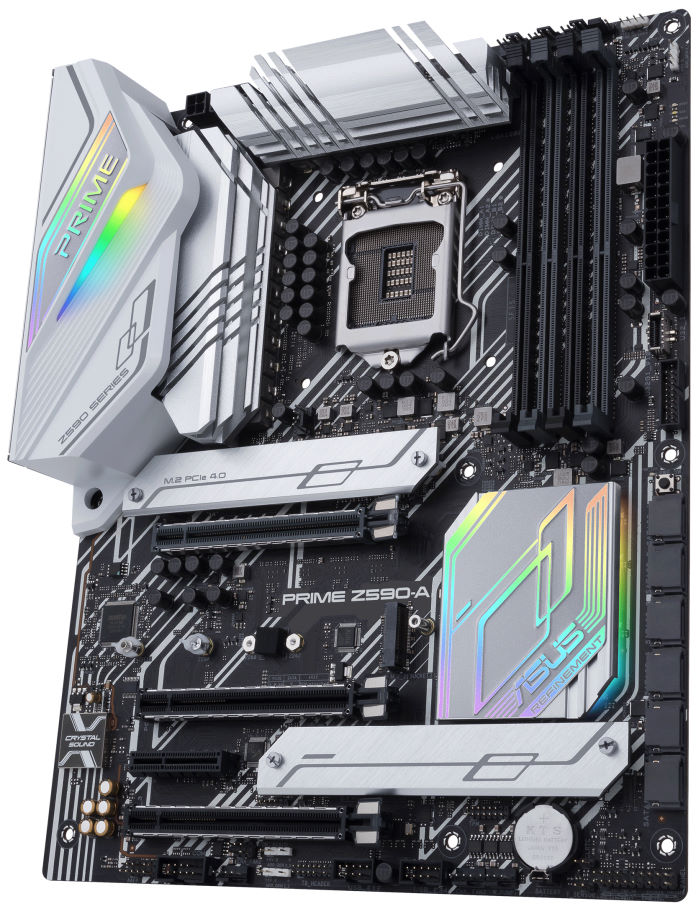 The ASUS Prime Z590-A
AI Overclocking, powered by exhaustive research and characterization of the performance potential of thousands of actual CPUs in our testing labs, continues to lead the industry for overclocking performance and ease of use. It boosts CPU clocks for both lightly-threaded and all-core workloads with just one click. AI Overclocking's sophisticated intelligence also monitors the efficiency of your CPU cooler and changes in the operating environment of your system to tune its parameters over time for the best performance with your system's unique set of components.
Two-way AI Noise Cancelation removes distracting background noise from both your microphone and from other audio sources, ensuring you can hear and be heard with crystal clarity in games and group chats. AI Cooling integrates information about your system's fans and component temperatures to automatically achieve the best balance between cooling performance and noise levels. And AI Networking draws on an extensive database of application profiles and a view of your current network activities to ensure that the right traffic always gets priority. To take full advantage of these AI-powered features, you'll want an ROG Maximus XIII or ROG Strix Z590 motherboard. Select AI features will also be available on TUF Gaming and Prime motherboards.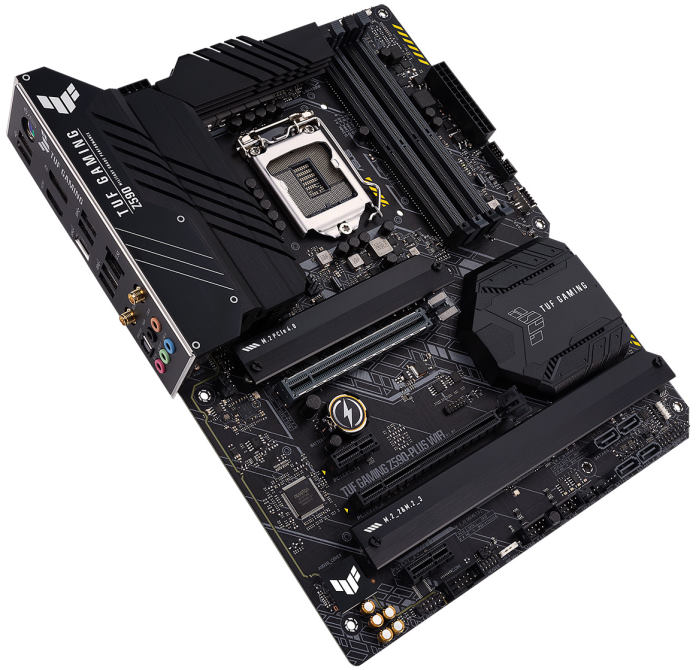 The TUF Gaming Z590-Plus WiFi
In addition to our full lineup of Z590 motherboards, ASUS will be releasing a wide range of Intel 500-series boards using the H570, B560, and H510 chipsets soon. We will also support Intel 11th Gen Core CPUs on ASUS 400-series motherboards with a future firmware update.