Thermaltake Level 20 XT Cube Chassis
Thermaltake is thrilled to present the latest TT Premium product line – Level 20 Series which commemorates 20 years of dedication to the PC industry. Under this product line is the new Level 20 Series – Level 20 XT.
Level 20 XT is a cube case specially designed to show off custom liquid cooling systems. The level 20 XT has a unique flat motherboard design that puts components on display from any angle, and a chamber design that separates cooling, PSU and hardware components in the upper and lower sections.
The Level 20 XT takes our latest case innovations and wraps them in an ultra-modern style that's utterly unique in the case market today.
Stand out from the crowd with the Level 20.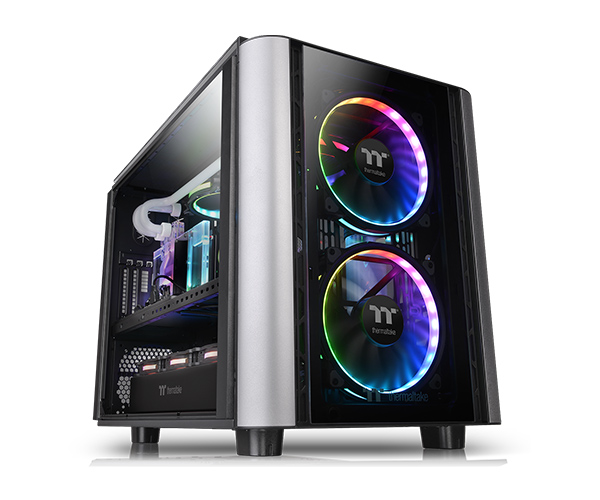 Chamber Design
The Level 20 XT carries over the innovations of some of our earlier cube case designs by splitting the chassis into two chambers. The chamber houses the motherboard tray GPU and other PCI-E cards, while the lower chamber houses the power supply, storage devices and cooling elements.
Superior Hardware and Liquid Cooling Support
Level 20 XT supports up to E-ATX motherboards, CPU coolers up to 250mm in height, VGA lengths up to 400mm and PSU sizes up to 220mm in length. The XT also supports up to 480mm radiators, with mounting positions along the top, the front, or along either side in the lower chamber.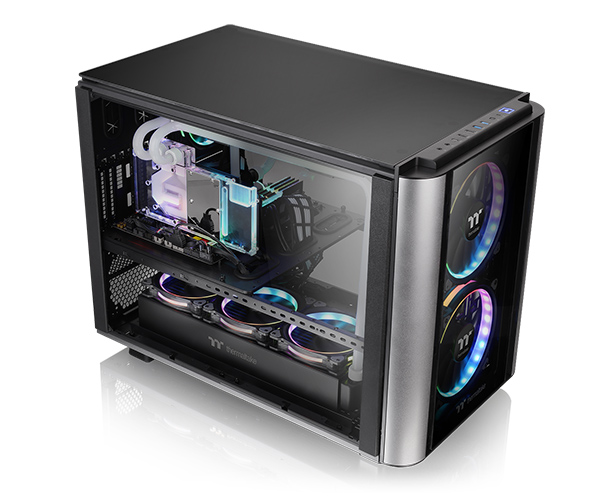 DMD: Dismantlable Modular Design
Strip your case down to the bones and install elements when and as you need them with our modular design. The level 20 GT features modular panels, racks, brackets, and pre-design mounting arrays. No more unreachable screw corners or gaps, installation can be a breeze with our Dismantlable Modular Design.
Level 20 XT Radiator Supporting List
Radiator Compatibility List
120
mm
140
mm
180
mm
240
mm
280
mm
360
mm
420
mm
480
mm
Front
●
●
●
●
●
●
–
–
Top
●
●
●
●
●
●
●
●
Rear
●
●
–
–
–
–
–
–
Bottom
●
●
–
●
●
●
●
●
Side(L/R)
●
●
–
●
●
●
●
●
All-in-One Compatibility List
(Water 3.0 and Floe series)
Performer
Pro
240
Series
360
Series
140
Series
280
Series
Front
–
–
–
–
–
–
Top
●
●
●
●
●
●
Rear
●
●
–
–
●
–
Bottom
–
–
–
–
–
–
Side (L/R}
–
–
–
–
–
–
Level 20 XT Fan Supporting List
Fan Compatibility List
120mm
140mm
200mm
Front
3
2
2
Top
8
6
2
Rear
2
2
–
Bottom
6
–
–
Side(L/R)
4
3
–
Fan Compatibility List
120mm
140mm
200mm
Pure Fan Series

●

●

●
Luna Fan Series

●

●

●
Riing Fan Series

●

●

●