Thermaltake Level 20 GT RGB Plus Edition Full Tower Chassis
The Level 20 GT RGB Plus is the premium full tower in the level 20 range – specially outfitted with RGB Plus products. Level 20 GT RGB Plus features four tempered glass panels with locking hinged doors, E-ATX motherboard support, patented PCI-E slot design and a removable power cover.
The Level 20 GT RGB comes preinstalled with two Riing Plus 20 RGB in the front & one Riing Plus 14 RGB fans in the rear. These RGB Plus fans are custom-designed to work with our AI Voice Control software, as well as with Amazon Alexa. The lighting effects can also be synchronized with Razer's RGB products via Razer Chroma software.
The Level 20 GT RGB takes our latest case innovations and wraps them in an ultra-modern style that's utterly unique in the case market today.
Stand out from the crowd with the Level 20.
Preinstalled with 2 Riing Plus 20 RGB and 1 Riing Plus 14 RGB Fans
Thermaltake Riing Plus 20/14 Fan TT Premium Edition. 120mm/140mm high-static pressure fans with a patented 16.8 million colors LED ring and 12 addressable LEDs, the Riing Plus 20/14 RGB features compression blades and hydraulic bearing, and can be controlled by the patented TT RGB PLUS Software and AI interactive voice control.
Superior Hardware and Liquid Cooling Support
The Level 20 GT RGB supports up to E-ATX motherboards, CPU coolers up to 200mm in height, VGA lengths up to 310mm and PSU sizes up to 220mm in length.
On top of this, the GT is also fully capable of housing a complete liquid cooling system, including our range of PR-22 pumps and RGB Plus hardware.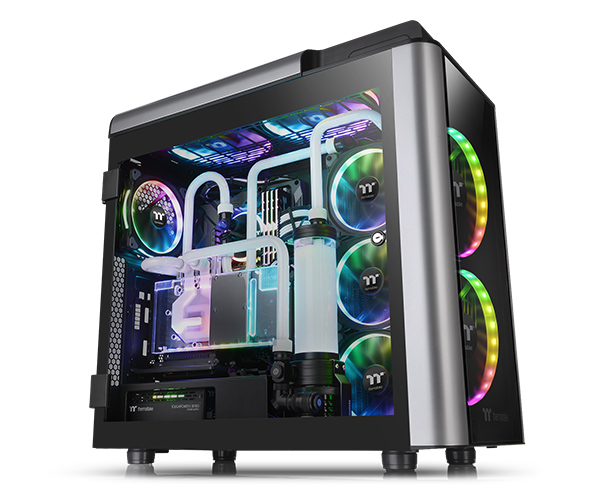 Patented Rotational PCI-E 8 Slots Design
Our brand new patented rotational PCI-E system allows you to stack multiple GPUs either vertically or horizontally, depending on how you want to build your system.
US Patent: 16/011,664
Taiwan Patent: M569542
China Patent: 201821058706.3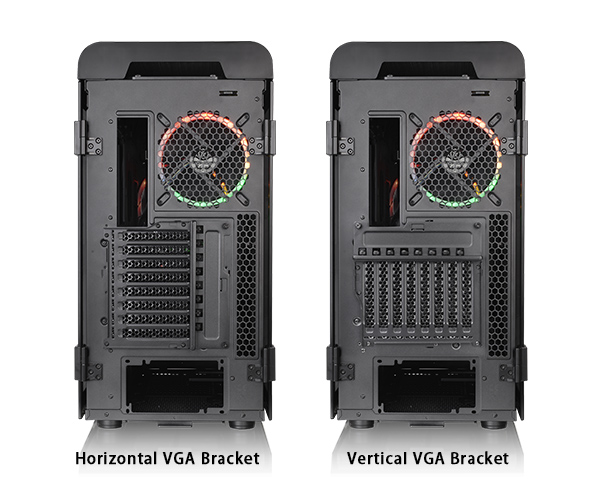 Vertical Radiator Placement
Whether you're building a custom loop or running an AIO CPU cooler, the Level 20 GT RGB lets you mount your radiator against the back panel to show off your RGB fans. The back panel provides adequate exhaust while putting your RGB fans on display, with support for up to a 420mm radiator as well as radiator support on the front and top of the chassis.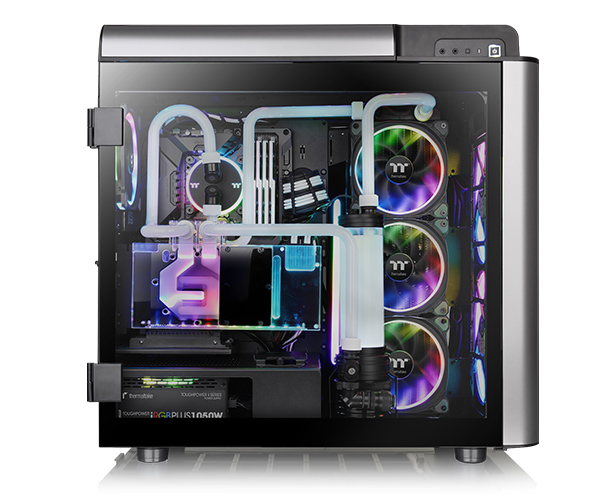 DMD: Dismantlable Modular Design
Strip your case down to the bones and install elements when and as you need them with our modular design. The level 20 GT RGB features modular panels, racks, brackets, and pre-design mounting arrays. No more unreachable screw corners or gaps, installation can be a breeze with our Dismantlable Modular Design.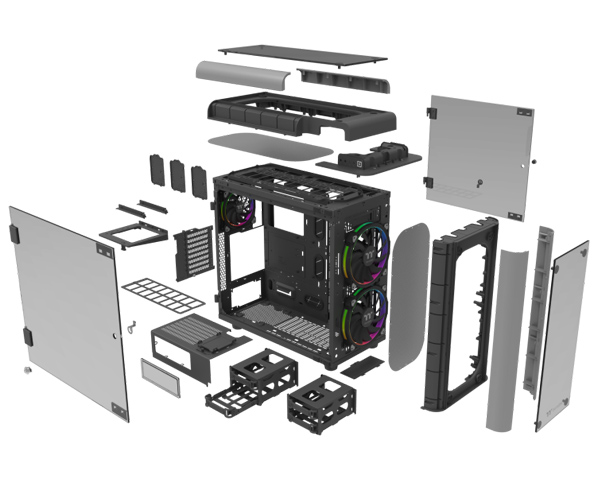 Level 20 GT RGB Plus Radiator Support List
Radiator Compatibility List
120
mm
240
mm
360
mm
140
mm
280
mm
420
mm
180
mm
360
mm
Front
●
●
●
●
●
●
●
●
Top
●
●
●
●
●
–
●
●
Rear
●
–
–
●
–
–
–
–
Right
●
●
●
●
●
●
–
–
Bottom
●
●
–
–
–
–
–
–
All-in-One Compatibility List
(Water 3.0 and Floe series)
Performer
Pro
240
Series
360
Series
140 Series
280 Series
Front
–
–
–
–
–
–
Top
●
●
●
●
●
●
Rear
●
●
–
–
●
–
Right
●
●
●
●
●
●
Bottom
–
–
–
–
–
–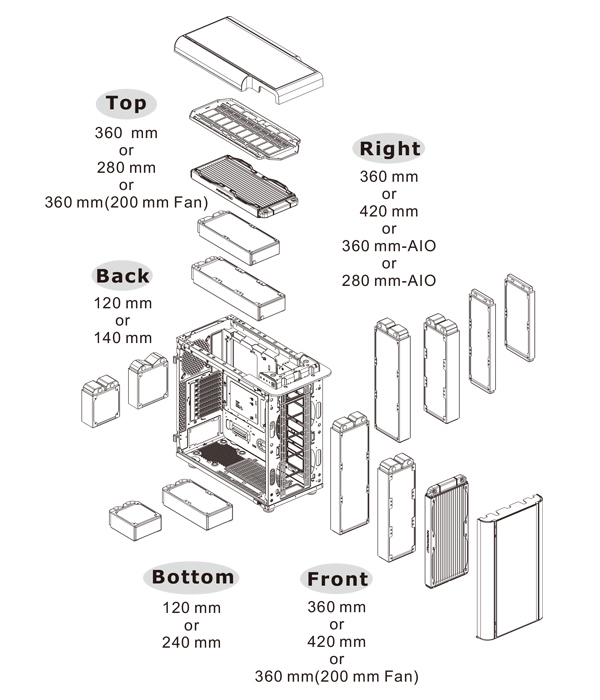 Level 20 GT RGB Plus Fan Support List
Fan Compatibility List
120mm
140mm
200mm
Front
3
3
2
Top
3
3
2
Rear
1
1
–
Bottom
2
–
–
Thermaltake Compatible Fan
120mm
140mm
200mm
Pure Fan Series

●

●

●
Luna Fan Series

●

●

●
Riing Fan Series

●

●

●