Thermaltake AH T600 Full Tower Chassis
The AH T600 full-tower chassis from the AH Series is forged with a sturdy, air-force styled architecture with two large 5mm tempered glass panels on the left and right sides, and three 3mm tempered glass windows on the front. I/O ports are located at the top-front panel with a futuristically designed power button. It is a newly designed open frame case, compared to Thermaltake Core P Series, which not only ensures outstanding ventilation but also enables users to demonstrate their DIY handwork and showcase their internal components. The AH T600 supports high-end expansion that can hold up to four 120mm fans at the front and can fit our Pacific DP 100-D5 Plus RGB liquid cooling distribution plate. The AH T600 Full Tower Chassis is one-of-a-kind that all users will notice, love, and desire.
Helicopter Inspired Design
The AH T600 is a helicopter inspired full tower case constructed with solid steel all around and side vents on each end. Two beautifully designed 5mm tempered glass panels on each side and three 3mm small tempered glass windows at the front not only helps you showcase interior components but also highlights the helicopter design concept.
Tempered Glass Window
The chassis comes with two 5mm tempered glass panels, thicker and more scratch resistant when compared to standard acrylic. Swing doors on the left and right sides allow users to easily access the internal components as well as the ability to remove the doors entirely for complete access to the internals. On top of this, the enlarged window design enables you to display and admire all your components in their full RGB glory
ertical GPU Mount and Patented Rotational PCI-E 8 Slot
Specially designed with dual GPU placement options, the AH T600 has support for both vertical and horizontal graphics card layouts. With dual PCI-E slot designs (and an optional PCI-e riser cable), the included riser GPU support bracket will not only prevent the graphics card from sagging, but also help reduce the overall weight on the motherboard.
Thermaltake TT Premium PCI-E 3.0 Extender (Optional) – Supports a wide range of GPU solutions. This is an extreme high-speed cable with highly-routable design, EMI shielding with conducting polymer are crafted for meeting the most demanding system. Available in 300mm, 600mm and 1000mm in length.
Radiator Support List
Radiator Compatibility List
| | 120mm | 240mm | 360mm | 480mm | 140mm | 280mm | 420mm |
| --- | --- | --- | --- | --- | --- | --- | --- |
| Front | ● | ● | ● | ● | ● | ● | ● |
| Top | ● | ● | ● | – | ● | ● | – |
| Right | ● | ● | ● | – | ● | ● | – |
All-in-One Compatibility List
| | Perform | Pro | 240 Series | 360 Series | 140 Series | 280 Series |
| --- | --- | --- | --- | --- | --- | --- |
| Top | ● | ● | ● | ● | ● | ● |
| Right | ● | ● | ● | ● | ● | ● |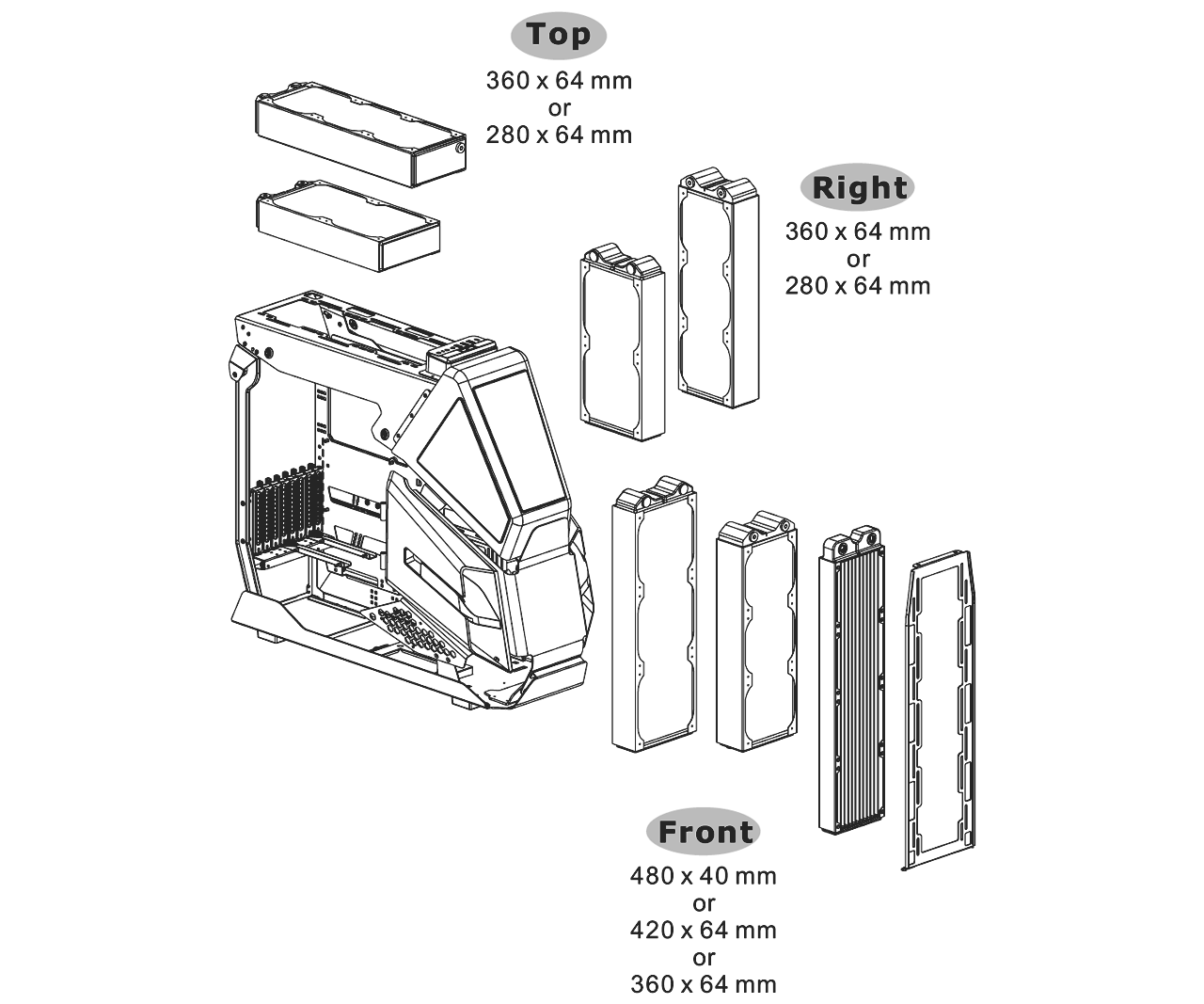 Fan Support List
Fan Compatibility List
| | 120mm | 140mm | 200mm |
| --- | --- | --- | --- |
| Front | 4 | 3 | – |
| Top | 3 | 2 | – |
| Right | 3 | 2 | – |
Thermaltake Compatible Fan
| | 120mm | 140mm | 200mm |
| --- | --- | --- | --- |
| PURE FAN Series | ● | ● | – |
| Riing FAN Series | ● | ● | – |