Thermaltake A500 Aluminum Tempered Glass Edition Mid Tower Chassis
Thermaltake A500 Aluminum Tempered Glass Edition mid-tower chassis features a sleek aluminum front panel, two 4mm tempered glass panels, two pre-installed 120mm front fans and a 120mm rear fan for optimal system ventilation. It has a built-in power supply cover for clean and easy cable management and also supports up to a standard ATX motherboard. Accommodating the latest PC hardware including the most advanced graphic cards and air/liquid cooling solutions, the A500 Aluminum TG is designed for those who are looking for a chassis with outstanding thermal performance that is further complemented by a clean and simply designed case.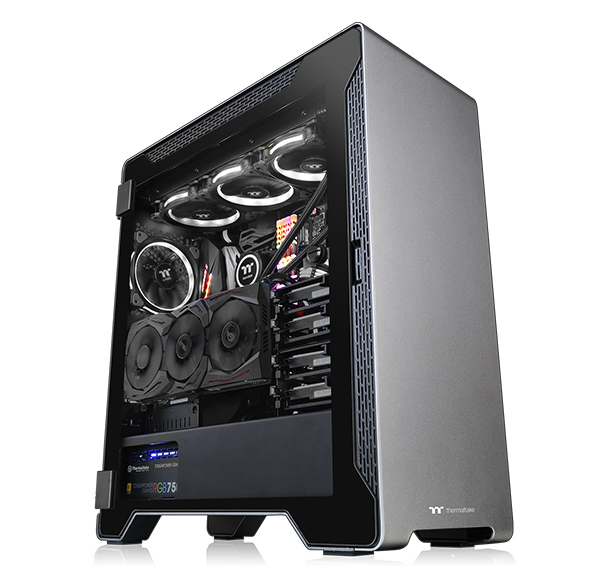 Sleek Aluminum Design
The A500 Aluminum TG chassis is built to be sleek and minimalist. The clean aluminum front and top panels hide the ample air intakes, and the power supply cover gives you plenty of space to route cables and clean up the build.
Aluminum Modular Structural Statement with Two Tempered Glass Panels
Featuring aluminum panels created by high precision CNC digital cutting to ensure chassis security, while at the same time providing a futuristic gaming aesthetic. The aluminum anodizing process enables the panels to be both water and corrosive resistant as well. The aluminum casing utilizes CNC milling technology and was sandblasted to help shape the elegant and sleek curves. Two hinged swing-doors with premium-quality 4mm thick tempered glass design guarantees window durability and viewing capability to encourage users to thoroughly display superb inner components.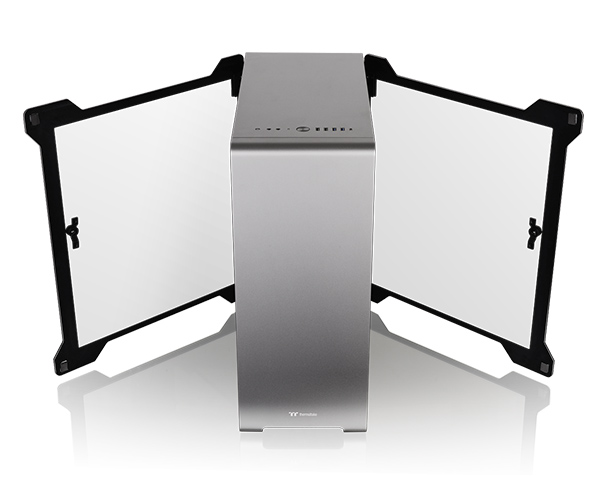 Superior Hardware Support
The A500 Aluminum TG has outstanding expandability, with support for a CPU cooler with a maximum height of 160mm, combined with a dual expansion slot VGA of up to 420mm in length without an HDD rack, as well as a power supply with a length of up to 220mm. Moreover, the hidden drive bay design guarantees expandability for even more liquid cooling configurations.
※Suggested VGA thickness up to 40mm(2-slot reference card standard) with 7mm space for ventilation if extending for VGA card.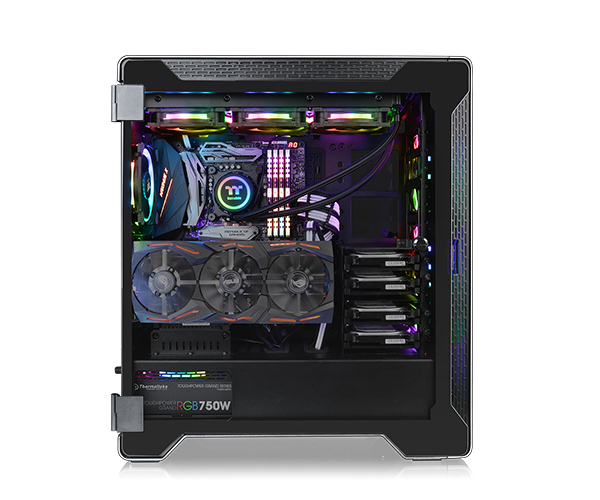 Excellent Cooling Capability
Preinstalled with three 120mm fans for optimal cooling performance, this case can house up to three 140mm front fans, two 140mm or three 120mm fans on the top and a radiator size up to 420mm. This allows the user at the same time to build a complete high-end system to suit their needs.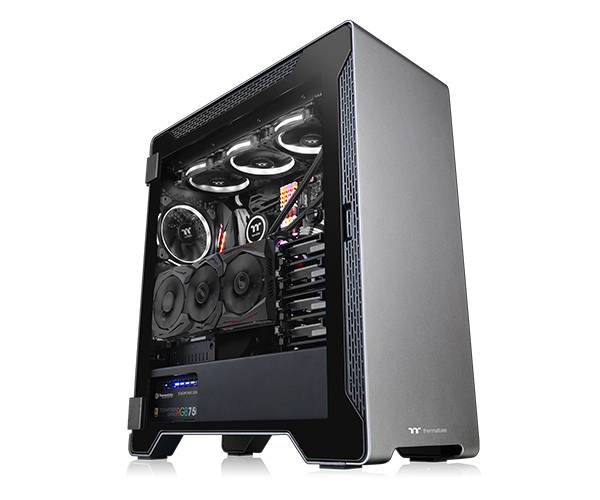 DMD: Dismantlable Modular Design
Enables user to freely build the system from the ground up with given modular panels, racks, brackets, and pre-design mounting arrays. No more unreachable screw corners or gaps and enjoys installation in a breeze with Dismantlable Modular Design.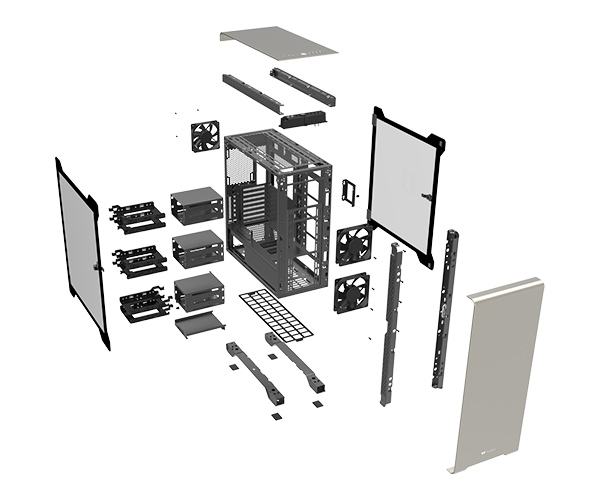 Radiator Supporting List
Radiator Compatibility List
120
mm
240
mm
360
mm
140
mm
280
mm
420
mm
Front
*
*
*
*
*
*
Top
*
*
*
*
*
Rear
*
All-in-One Compatibility List
(Water 3.0 and Floe series)
Performer
Pro
Extreme
Ultimate
140 Series
280 Series
Front
–
–
–
–
–
–
Top
*
*
*
*
*
*
Rear
*
*
–
–
–
–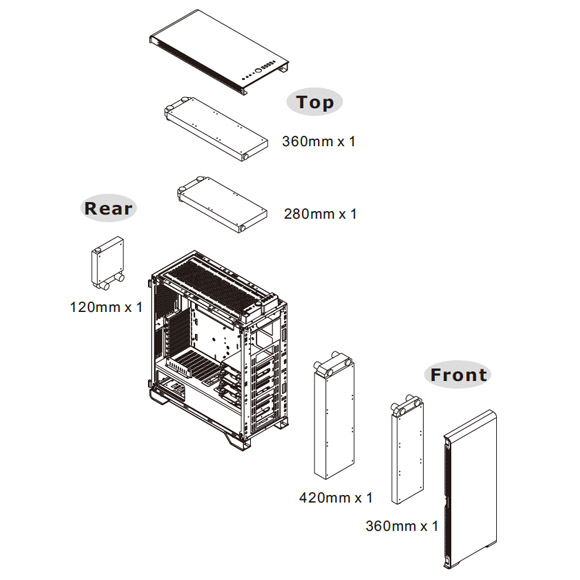 Fan Supporting List
Fan Compatibility List
120mm
140mm
200mm
Front
3
3
–
Top
3
2
–
Rear
1
–
–
Thermaltake Compatible Fan
120mm
140mm
200mm
Pure Fan Series
*
*
–
Luna Fan Series
*
*
–
Riing Fan Series
*
*
–