Product Description
Upgrade your computer for a better speed and better performance using the AMD FX-4300 processor that will ensure you have a lag-free experience while running heavy applications.
Technology
AMD processors are loaded with high-end features and cutting-edge technology which promises power-packed performance to your computer. Boost your computer with an AMD processor and feel the difference as you work.
AMD Processor-in-a-Box
The AMD processor comes safe in a box, with tamper-resistant packaging and a unique bar code, so it can be tracked easily. In the box, you shall find: a high-performance AMD processor, an AMD-qualified heat sink & fan with thermal interface, an installation manual, an AMD processor case sticker and a certificate of authenticity.
New Instruction Capabilities
The AMD processor is designed with new instruction capabilities. Its Advanced Vector Extensions (AVX) enhance parallelism for scientific & 3D apps using heavy floating point calculations. Additionally, FMA4 & XOP – Floating-Point Vector Multiply-Accumulate & eXtended Operations improves performance on many integers & floating point vector functions. The Advanced Encryption Standard (AES) increases the performance of encryption apps such as PCMark ® & TrueCrypt ®.
AMD FX Processors
We call it the new AMD FX 8-Core Processor Black Edition and it's unlocked for your overclocking pleasure.1 Experience unmatched multitasking and pure core performance with the industry's first 32 nm 8-core desktop processor. Get the speed you crave with AMD Turbo CORE Technology to push your core frequencies to the limit when you need it most. Go beyond the limits of maximum speed with easy-to-use AMD OverDrive ™ and AMD Catalyst Control Center ™ software suites. But the best part of all? You'll get all this impressive performance at an unbelievable price. You'll be asking yourself "what competition?" in no time.
AMD Turbo CORE Technology
The special Turbo CORE technology helps boost the performance of those applications which require it the most. The AMD processor has a balanced smart cache, that is, it comes with a shared L3 cache (up to 8MB) so as to improve scheduling and pre-fetch capabilities. It has 64-ways (16-ways/sub-cache), increased data queue sizes and coherency for 8 cores. The processor has a shared floating point (FP) scheduler and dual 128-bit floating point engines, which can group together for 256-bit AVX instructions, or even separately with each core.
HyperTransport ™ Technology
The processor can transport a single 16-bit link at the rate of 5600MT per second. It can transfer up to 8.0GB per second HyperTransport I/O bandwidth and up to 16GB per second in HyperTransport Generation 3.0 mode. HyperTransport and Memory Bus speed, combined, make it transfer up to 37 GB per second total delivered processor-to-system bandwidth.
Integrated DRAM Controller with AMD Memory Optimizer Technology
The processor has a high-bandwidth, low-latency integrated memory controller. It supports up to DDR3-1866 with 1 DPC (DIMM per Channel) in single memory slot motherboard designs. It also supports new low voltage memories of 1.35V and 1.2V. It has up to 29.9 GB per second memory bandwidth for DDR3. It also has pre-fetcher improvements. It has direct communications to each core in dual-core module (APIC registers in each core).
AMD Virtualization ™ (AMD-V ™) Technology with IOMMU
It has silicon enhancements for better performance, security & sustainability of existing and future virtualization environments, which provide virtualized apps with direct and rapid access to their allocated memory. IOMMU is an extension to AMD64 architecture so as to support address translation & access protection on DMA transfers. It also provides for user-level application and virtual machine guest OS. It helps with address translation and access control, device isolation, device assignment in virtualized systems, trusted boot support and unified interrupt management.
AMD PowerNow! ™ Technology (Cool 'n' Quiet ™ Technology)
This technology automatically and instantly adjusts performance states and features, based on processor performance. The C6 power state allows all cores in C6 to power even lower for quieter operation and reduced power requirements. It has a separate memory power controller. It is I/O-based c-state interface. It works automatically without the need for drivers or BIOS enablement. The power can be switched on or off within a single clock-cycle, conserving energy without affecting performance.
Structure
The processor sports the all new Bulldozer architecture, along with a 32 nanometer die shrink design with Silicon-on-insulator (SIO) technology for increased clock rate, better thermals and improved efficiency.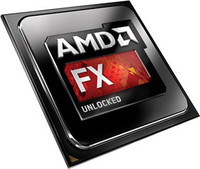 Performance
The processor comes with the AMD Turbo Core technology that is designed to dynamically adjust performance to provide the best experience. The unlocked processor also allows maximum tunable performance.
Memory & Speed
The processor has 4 MB of L2 as well as L3 cache memory. It has a frequency of 3.8/4.0 GHz, providing you an extremely fast performance while gaming and running heavy applications.