All In One Solutionfor 
Post Production
DaVinci Resolve is divided into "pages," each of which gives you a dedicated workspace and tools for a specific task. Editing is done on the cut and edit pages, visual effects and motion graphics on the Fusion page, color correction on the color page, audio on the Fairlight page, and media organization and output on the media and deliver pages. All it takes is a single click to switch between tasks!
---
Edit
The world's fastest and most advanced professional NLE.
The edit page is the world's most advanced professional non-linear editor. The familiar track layout, dual monitor design and traditional workflow makes it easy for new users to learn while still being powerful enough for professional editors. It's perfect for larger projects such as feature films, television shows, streaming, commercials, documentaries and more. The edit page features drag and drop editing, context sensitive automatic trimming tools, fully customizable keyboard shortcuts so you can work faster, and a library full of hundreds of titles, transitions, and effects that you can add and animate. You also get complete media management, organization and timeline management tools. Learn More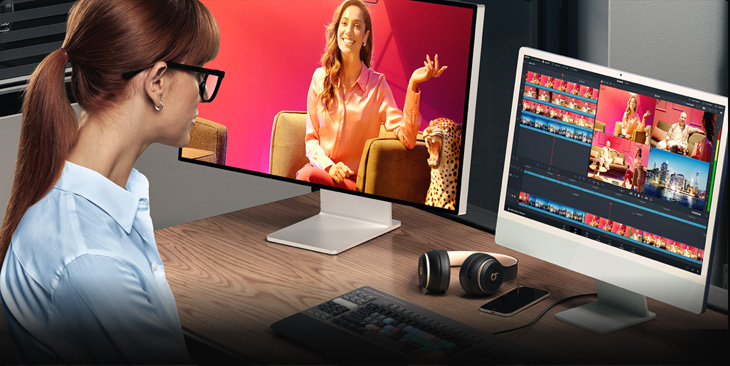 Cut
Designed for editorsto turn around work fast!
The cut page is perfect for projects with tight deadlines that you have to turn around quickly. It's also great for documentary work. The cut page has a streamlined interface that's fast to learn for new users and designed for speed. Features such as source tape, dual timelines, fast review, and smart editing tools help you work faster than ever. The sync bin and source overwrite tools are the fastest way to edit multicam programs, making it easy to create perfectly synchronized cut aways! Everything on the cut page is action based so every click does something. That means you'll spend more time editing and less time hunting for commands. Plus, the scalable interface is great for portable editing! Learn More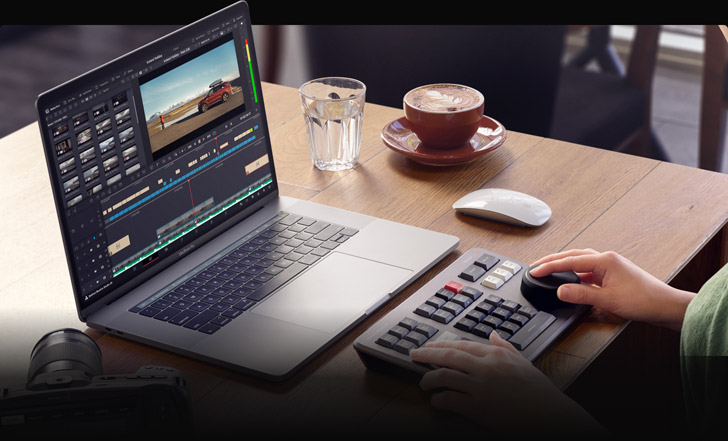 ---
Color
Hollywood's favoritecolor corrector!
The DaVinci Resolve color page is Hollywood's most advanced color corrector and has been used to color and finish more high end feature films and television shows than any other system! It's also approachable with exciting new features designed to make it easier for new users to get great results while they continue to learn the advanced tools. For example, new primary control sliders will be familiar to anyone that's used image editing software, making it easy to adjust contrast, temperature, midtone detail, saturation and more. The color page has an incredible range of primary and secondary color grading features including PowerWindows™, qualifiers, tracking, advanced HDR grading tools and more! Learn More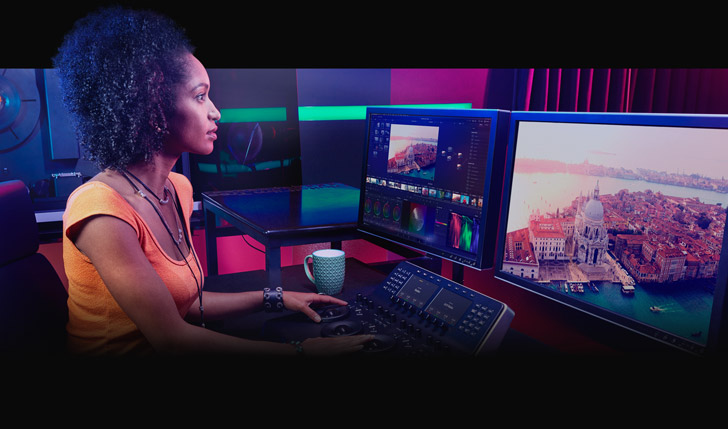 ---
Fusion
Cinematic quality visualeffects and motion graphics!
The Fusion page lets you create cinematic visual effects and broadcast quality motion graphics right inside of DaVinci Resolve! Fusion features a node based workflow that makes it faster and easier to create sophisticated effects and animations than you could ever create using a layer based approach. You get hundreds of 2D and 3D tools for visual effects and motion graphics, along with advanced animation curve and keyframe editors that allow you to create incredibly organic and realistic animations. Fusion has everything from point, planar and 3D camera tracking to rotoscope and keying tool for creating photorealistic composites, stunning animated titles, 3D particle systems and more! Learn More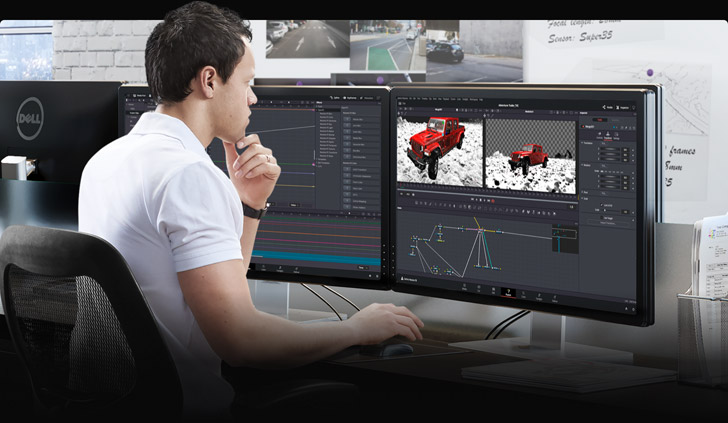 ---
Fairlight
Professional toolsdesigned for audio post production.
The Fairlight page features hundreds of pro tools for audio post production. It's like having a professional digital audio workstation (DAW) built into your editing and color system! Familiar keyboard based editing tools let you work extremely fast, especially if you're moving to Fairlight from another system. The incredible new Fairlight Audio Core lets you work with up to 2,000 tracks at a time with realtime effects, EQ, and dynamics processing! You get sample accurate editing tools, advanced ADR and Foley, and Fairlight FX such as reverb, de-esser, hum remover and more. You can mix and master stereo, 5.1, 7.1, and even the latest immersive 3D audio formats, all within the same project! Learn More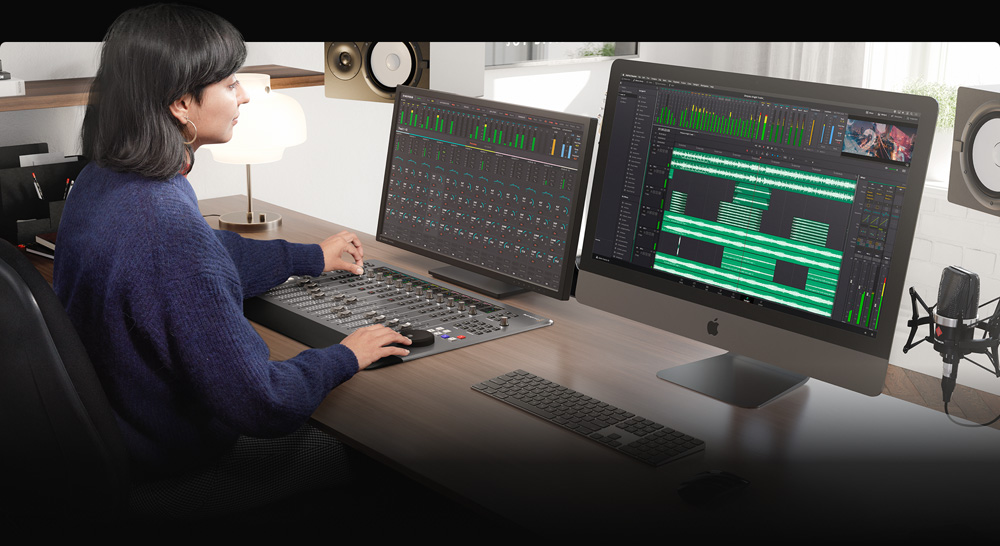 Media and
Delivery
Incredibly wide formatsupport, finishing and mastering!
The media and delivery pages have everything you need to import, manage and deliver final projects. While you can import and organize footage into bins on both the cut and edit pages, the media page gives you a dedicated full screen workspace so you can focus on preparing footage, syncing clips, organizing footage into bins and adding metadata before you start editing. The media page also lets you clone camera media cards for backup purposes. The quick export tool lets you output and upload files to YouTube, Vimeo and Twitter from anywhere in the software, but the deliver page gives you total control over all encoding options and formats, along with a render queue for exporting multiple jobs! Learn More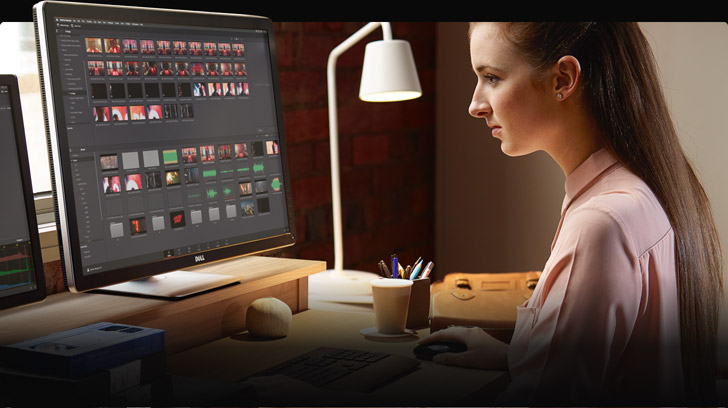 DaVinci Resolve Studio 17 features over 100 GPU and CPU accelerated Resolve FX in categories such as blurs, light effects, noise, image restoration, beauty enhancement, stylize and more! Version 17 adds 11 new plugins for texture pop, detail recovery, creating video collages, 3D keyer, HSL keyer, luma keyer, smear, motion trails, noise reduction, image transforms and false color. The video collage plug-in is perfect for picture in picture zoom style videos, virtual choirs and more! There are also improvements to the object removal, dead pixel fixer, dust buster, blur and film grain plug‑ins. All Resolve FX can be animated using the new unified inspector on the cut, edit and Fusion pages!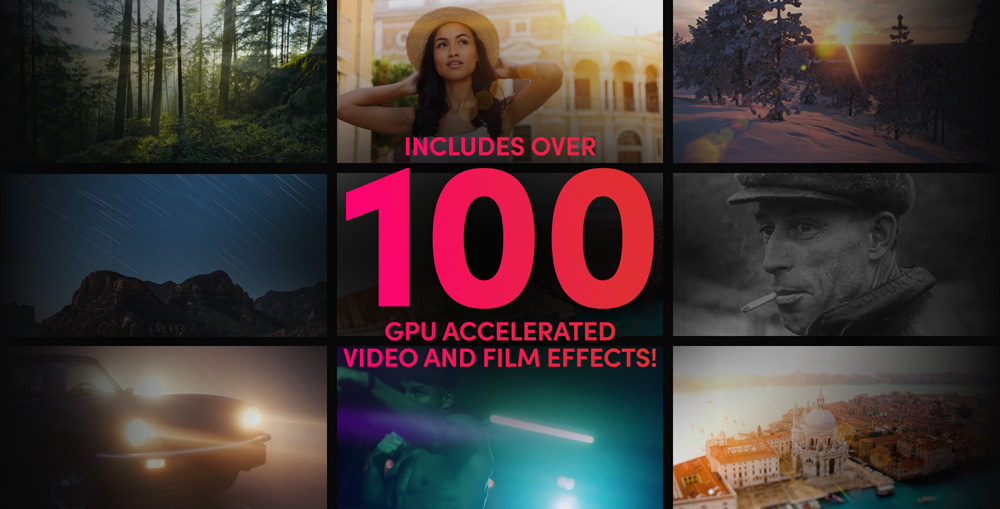 ---
The DaVinci Neural Engine uses state of the art deep neural networks and machine learning, along with artificial intelligence to power features such as facial recognition, object detection, smart reframing, speed warp retiming, super scale up‑scaling, auto color and color matching and more! The DaVinci Neural Engine is entirely cross platform, using the latest GPU innovations for AI and deep learning to provide unparalleled performance and quality. The DaVinci Neural Engine provides simple tools to solve complex, repetitive and time consuming problems. For example, it enables facial recognition to sort and organize clips into bins based on people in the shot, to reframe shots and more.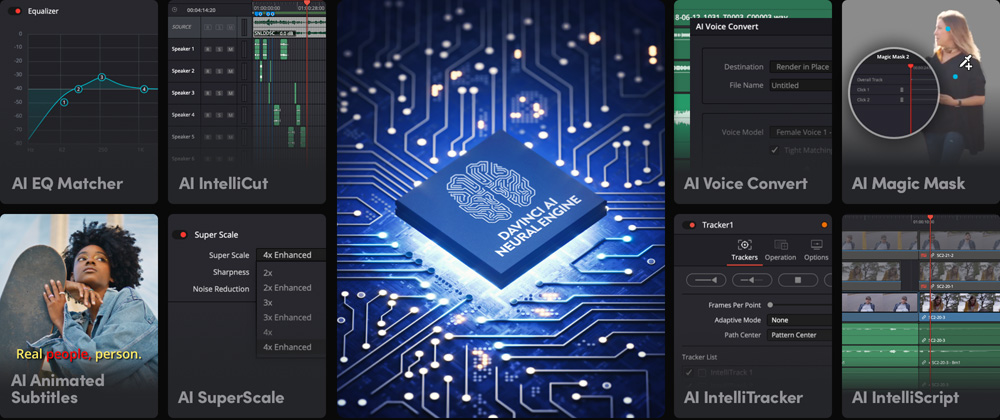 ---
Works with 3rd PartyPlug‑Ins and Storage
With all of the different workflows and systems available, you need a post production solution that's compatible and open enough to handle anything! DaVinci Resolve can be used with any type of storage ranging from direct attached hard drives to NAS and SAN systems. You can extend DaVinci Resolve with third party Open FX and VST plug-ins, or add third party title and motion graphics templates. New workflow integration and encoding APIs let developers integrate workflow and asset management systems with DaVinci Resolve. Plus, it works with all major file formats and post production software, making it easy to move files between DaVinci Resolve, Final Cut Pro X, Media Composer, and Premiere Pro.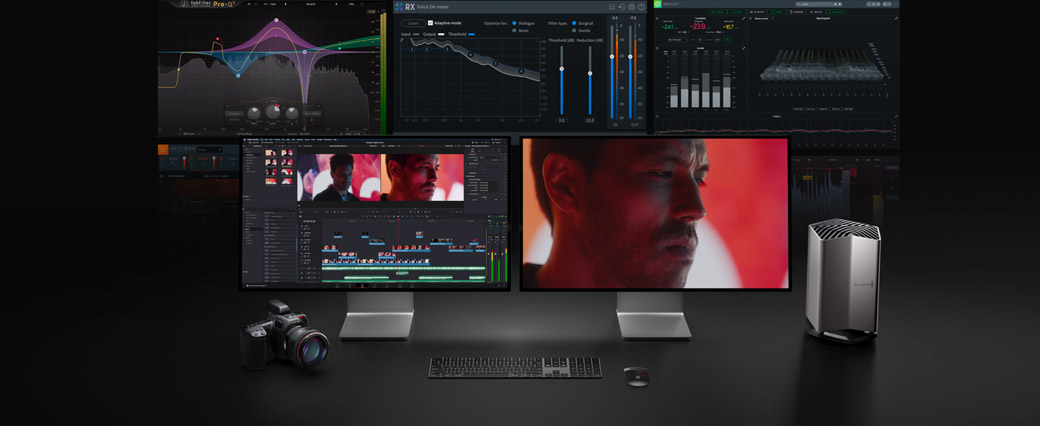 DaVinci Resolve is the only solution that lets you grow and build your own multi user post production studio! It's designed for collaboration so as you get more work or larger jobs, you can add users and all work on the same projects at the same time. Everything is managed by a powerful multi user database and universal timeline so editors, colorists, VFX artists, animators and sound engineers can all work together. Best of all, you no longer have to import and export files, translate projects, lose work, or conform and manage changes. DaVinci Resolve is the only application in the world that lets everyone work together in parallel on the same project and at the same time! Learn More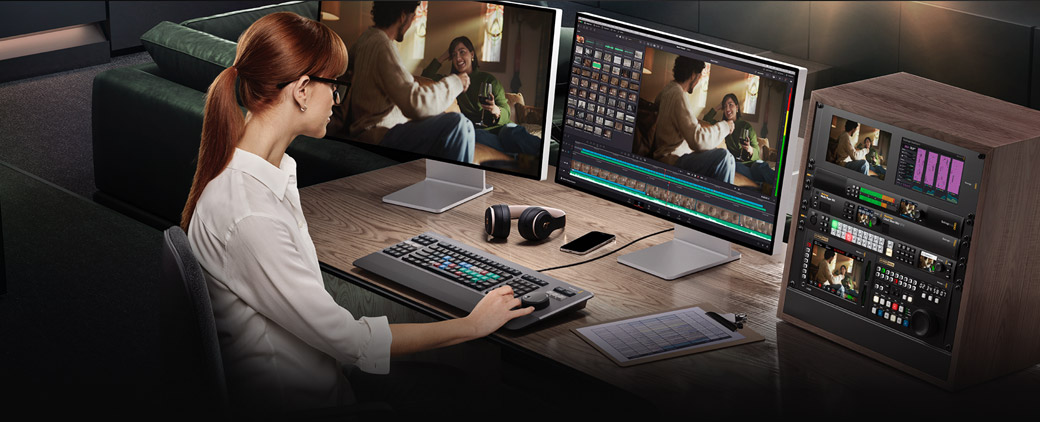 DaVinci Resolve Editor Keyboards
DaVinci Resolve keyboards have been designed as an alternative way to edit that's much faster than a mouse because you can use both hands at the same time! The DaVinci Speed Editor features dedicated edit function keys on the left and a high quality search dial with electronic clutch and transport controls on the right. You can use the search dial and source tape buttons with your right hand to locate shots, while simultaneously marking in and out points, performing edits and live trimming with your left hand. All without touching the mouse! The DaVinci Resolve Editor Keyboard adds a QWERTY keyboard with color coded shortcut keycaps, designed for editors who spend hours each day editing. Learn More

DaVinci Resolve Speed Editor – ₹ 23,350
DaVinci Resolve Editor Keyboard – ₹ 78,650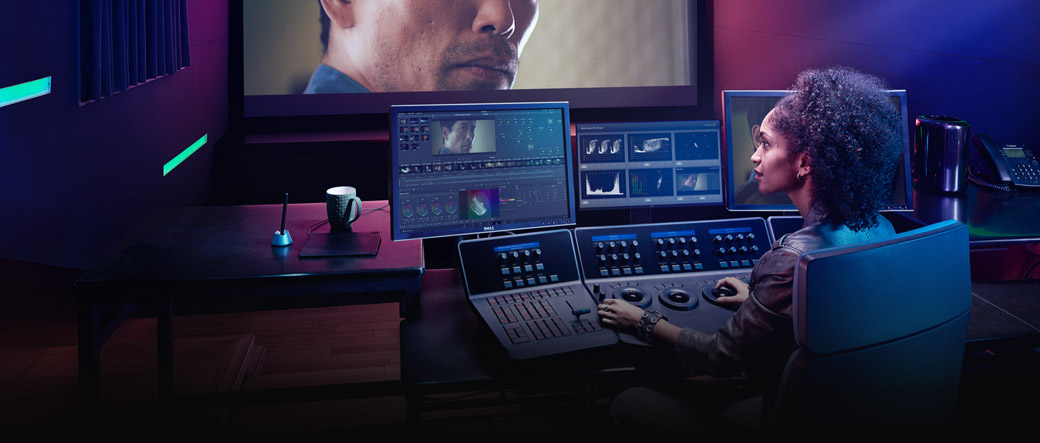 DaVinci Resolve Color Panels
DaVinci Resolve color panels let you adjust multiple parameters at once so you can create unique looks that are impossible with a mouse and keyboard. The incredibly small DaVinci Resolve Micro Panel is great for new colorists just getting started or anyone that needs a portable panel. It features three high quality trackballs, knobs for primary adjustment controls and buttons for playback and navigation. The DaVinci Resolve Mini Panel features additional controls and screens for accessing virtually all palettes and tools. For the ultimate in control, the DaVinci Resolve Advanced Panel gives high end professional colorists access to every single feature and command mapped to a specific button! Learn More
DaVinci Resolve Mini Panel
DaVinci Resolve Micro Panel
DaVinci Resolve Advanced Panel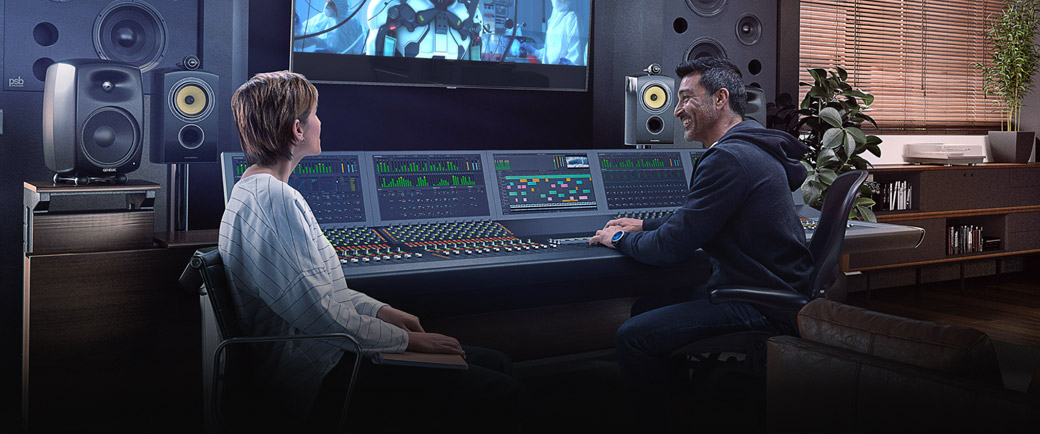 Fairlight ProfessionalAudio Consoles
Designed in collaboration with professional sound engineers, Fairlight hardware consoles streamline your workflow, acting as a natural extension of the software. The intuitive, task based design adapts automatically, putting the controls you need right at your fingertips when you need them. That means you'll spend more time being creative and work faster than using just a mouse and keyboard! The Fairlight Desktop Console is a complete mixing console that's ideal for use in home studios, small suites or on the road. You can also install Fairlight Studio Console components into your own desk or purchase a pre‑configured multi bay Fairlight console for dedicated audio suites and scoring stages! Learn More